I
just got arrested / cited for an Oregon reckless driving (ORS 811.140) charge. What happens now?
If you were charged with reckless driving, you were probably given a citation to appear in court a couple of weeks down the road. Often times, a reckless driving charge is one of several charges a person faces. For example, it is often a companion charge when a person is cited for an Oregon DUII charge especially in Multnomah County. If these companion charges are serious, then you may be booked into custody and brought to court the following business day.
Careless driving is a violation, and an officer cannot arrest you for this offense. [However, you may be arrested for other criminal charges and also given a citation for careless driving.] An officer will give you a citation for careless driving directing you to appear in court at a future date. Always read your citation carefully so that you understand your options, and do not miss any court date.
What is the difference between careless driving and reckless driving in Oregon?
Although there is a significant difference in the potential penalties faced by a person convicted of careless driving and reckless driving (see below), these offenses are actually defined in a similar manner. Compare ORS 811.140 with ORS 811.135.
A person commits the offense of
careless driving
if the person drives any vehicle upon a highway or premises open to the public in a manner that endangers or would be likely to endanger any person or property.
A person commits the offense of
reckless driving
if the person
recklessly
drives a vehicle upon a highway or premises open to the public in a manner that endangers the safety of persons or property. "Recklessly," means that a person is aware of and consciously disregards a substantial and unjustifiable risk that the result will occur or that the circumstance exists. The risk must be of such nature and degree that disregard thereof constitutes a gross deviation from the standard of care that a reasonable person would observe in the situation.
What type of penalties (jail) do I face if I am convicted of reckless / careless driving in Oregon?
Reckless driving is a Class A misdemeanor crime in Oregon. Like all crimes, it carries the possibility of jail time; however, often little or no jail is imposed upon conviction. Conviction of reckless driving does come with a mandatory license suspension of at least 90 days (a longer suspension (either one year or three years) is imposed if you have a previous reckless driving conviction(s) within the last five years). ORS 809.411(3).
Careless driving is a violation with a maximum penalty that usually amounts to a fine of a few hundred dollars. However, if the court determines that the commission of the offense contributed to the serious physical injury or death of a vulnerable person on a public way, the court can impose substantial additional penalties. Rarely, a careless driving conviction will result in a one year license suspension. Usually, no suspension results from a conviction.
What about the crime of hit and run in Oregon?
Hit and run more formally known as failure to perform the duties of a driver can be either a felony or misdemeanor crime. It is a misdemeanor if only property is damaged; it is a felony offense if someone was killed or injured. A misdemeanor hit and run conviction will result in at least a 90 day license suspension.
What is the offense of speed racing?
A person commits the offense of speed racing if the drive a vehicle or otherwise participates in any of the following:
(a) A speed competition or contest;
(b) An acceleration contest;
(c) A test of physical endurance;
(d) An exhibition of speed or acceleration;
(e) The making of a speed record;
(f) A race; or
(g) A drag race.
Speed racing is a Class A traffic violation. However, organizing a speed racing event is a Class C felony.
How many "points" go on my Oregon license if I am convicted of reckless driving or careless driving?
The Oregon DMV does not use a point system so no points are assessed. A conviction for either offense will appear on your driving record. An example of a three year driving record available to your insurance company is set forth below.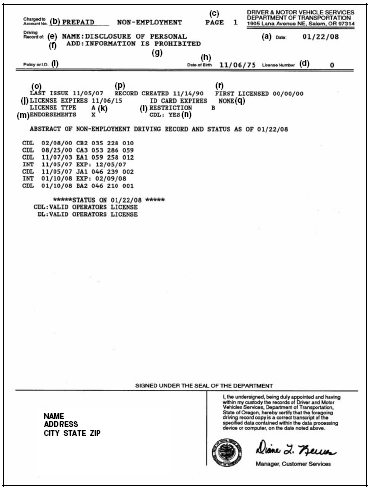 Can I expunge or seal an arrest or conviction for careless driving or reckless driving in Oregon?
No. Traffic crime convictions cannot be sealed or expunged under Oregon law. However, an arrest for a traffic crime may be expunged if the charge (and all related charges, if any) is ultimately dismissed (except DUII diversion dismissals).
How do I contact attorney David Lesh for help with my reckless driving case?
Mr. Lesh does not charge for an initial consultation. Call his office at 503.546.2928 to speak with him. Mr. Lesh's office is located at 434 NW 19th Avenue in Portland.
David N Lesh